An update today, finally got some spare time with the van in the garage and removed the tank, not such a difficult thing once drained, although one does smell of diesel for the next few days.
There's actually a drain plug in the tank too. eBay sells some fantastic clear 25L stackable containers for £12 so I siphoned what I could through a filter into the car and drained the rest via the plug.
So after getting the tank out, dusting it with the hoover and marvelling at Toyota's precision seam welding I opened up the pickup/return to see this: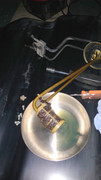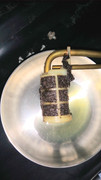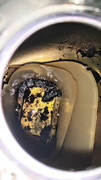 Incidentally the tank sender is in a different hole in the middle and can be accessed (and unplugged and replaced) from inside the van: there's a little door that you prize up at the back to get to that.
So it's clear now what was stopping my van, can't blame Toyota either: a serious contaminent is in there and will require some inventive tank washing to get it out. lso I need a new pickup filter if that one doesn't clean up well.
So if you find you have a vacuum between your engine and tank (detected by the primer pump handle being sucked down when your van loses power) you may care to look at the tank.
No idea if it's old diesel bug or rust from a rusty pump, the tank itself looks fine, just full of filthy stuff.