Admin wrote:

Looks nice..Have you any pics of the inside
Sure. Here you are.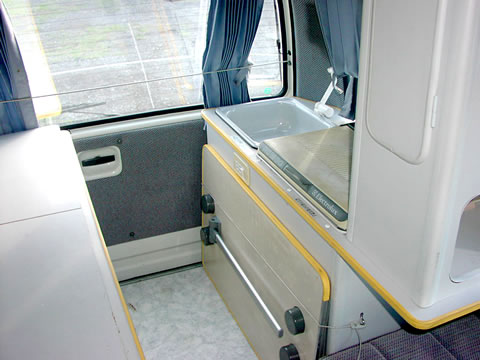 Looking towards the rear: the sink and fridge. The cabinet/storage unit to the left of the picture has two hinged boards on top that, when flipped across towards the sink and fridge, offers a sleeping space.
This is the main sleeping area, the sliding bench seat and two side seat storage units with the cushions laid out.
The bench seat upright with the table in place
The upper bunk. The cushions and slide board can be moved forward for headroom over the seats and table.
The van can seat 8 people and supposedly can sleep 6. I think that would be a bit tight though. Two adults and four kids maybe. It's just about right for my wife, daughter and me. Since these pictures were taken I've installed my car navigation system, tucking the nav unit itself in the left side seat/storage right next to the FF heater. Inside the right seat/storage I've installed my ProSine Inverter which will give the added convenience of running a microwave once I locate the perfect size. The battery was in a little compartment beneath the fridge but I ran some wire around the back and now it's in the right side cabinet/storage unit with plenty of room for a second battery.